This is a choice list of documentaries that inspire. All of these documentaries deserve my highest rating: four out of four fists.





The Kid Stays in the Picture (2002)
A lot of guys dream of being rock stars and some Bob Evans.
Bob Evans' life is like an amazing Hollywood movie. Hollywood production value with intimate portrait of one man's improbable journey from salesman to massively astute creative Hollywood mogul and then some.
One of the richest portraits of a real life ever committed to screen. While Evans isn't a saint and his achievements don't compare to the great men in history or anyone for that matter striving to better the world, his life was amazing.
Just as great as his rise, so too was his painful fall . "Was it worth it?" he asks. "You bet it was." The Kid Stays in the Picture is one of the few documentaries I enjoy watching again and again because it plays out like a fantastically crafted Hollywood movie. For all his self-admitted ham-handedness as failed actor, Evan's incredibly compelling and nuanced voiceover (taken from his memoir of the same name) is central to the emotional journey that is the life he depicts in his book and on screen here. The craftmanship of the filmmaking is top notch.
Evan's downfall comes about from bad decisions and a little thing called life. By the end, he comes out a survivor, inspiring us also to "stay in the picture."
The Yes Men (2004)
Andy Bichlbaum and Mike Bonanno show us the world of media pranking as The Yes Men. The Yes Men quickly establish themselves as the premier media pranksters in the world. These world-class operators crash world conferences, posing as corporations they don't' like and being as intelligently outrageous as possible. They deservedly earn Herb Alpert Foundation sponsorship, allowing their activist efforts to transverse the globe.
In a harbinger of things to come, we see a particularly chilling interview with then-presidential candidate George W. Bush where he asserts that people "have too much freedom" in response to the Yes Men controlled anti-Bush site.
This is not a documentary merely about the issues, but rather a call to action. Either come to this already informed or educate yourself elsewhere
The production value is not fancy, but it lends a certain charm to the down-in-the-ditches prank work ethic The Yes Men are doing.
It all culminates in one of the greatest media pranks ever.
In the Realms of the Unreal (2004)
A lesser known masterpiece of documentary storytelling. After a hermit living obscurity died, the managers of his apartment entered his quarters to discover a treasure trove of inspiration. A 15,143-page fantasy manuscript entitled The Story of the Vivian Girls, in What is Known as the Realms of the Unreal, of the Glandeco-Angelinnian War Storm, Caused by the Child Slave Rebellion, along with hundreds of watercolor paintings and drawings that depict his story.
The makers of In The Realms of the Unreal deftly weave the speculation over Harvey Darger's life and the beautiful stories he wrote in secret. The story is brought to live with great animation based on Harvey's beautiful paintings.
When a man who couldn't have been more obscure in life can bring joy to the world, even after he has left it, it's a beautiful thing. I'd like to think that Harvey's rich inner life brought him as much joy as we get through watching it.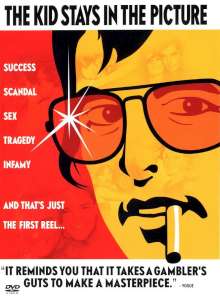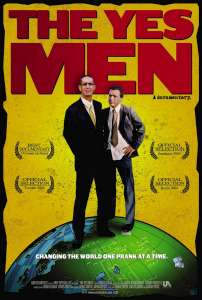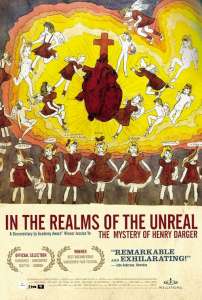 The Yes Men Fix The World (2009)
It's great to see The Yes Men haven't tired of their hjinks from 2004's The Yes Men. This was tears at the sick cult of "free market gospel" Milton Friedman clones.
The production value of this documentary is much more polished this time around.  Hilariously, despite the fact these guys pulled one of the biggest pranks in world history by disbanding the World Trade Organization as documented in the previous documentary, they still manage to pose as corporate representatives at major corporate conferences they bring the house down every time. You really get the sense of the nail-biting anxiety that proceeds some of the bolder pranks. And the fun doesn't stop when the media realizes it's been duped.
The must-be-seen-to-be believed Dow Chemical media prank on live BBC world news where the Yes Men announce a twelve billion dollar compensation plan for the forgotten victims of a 1980s chemical plant that is still poisoning people today.  But that's not all. You get shockingly blatant interviews with free-marketers openly referring deaths of people from greedy corporate crimes as "refreshing".  You get the iconic visual gag of the "survivaball", a faux Halliburton invention.  In the aftermath of Hurricane Katrina, they pose as HUD representatives announcing New Orleans' project tenants can return to their homes and announce Exxon and Shell will pay out a load to restore the devastating wetlands which contributed to the disaster.  It concludes with a truly remarkably uplifting piece of performance art in which The Yes Men Fix the world. There is so much to admire about this film and the feeling that together people can make a difference.
I can't wait for their next Kickstarter-funded documentary to come out.
Exit Through the Gift Shop (2010)
Fascinating character/person who, inspired by Banksy, sells all the inventory to a clothing business to become a street artist. It's a testament to what can be achieved through publicity when Thierry (who names himself Mr. Brainwash) used a carefully selected part of a Banksy quote on his work as an endorsement.
The production of Exit Through the Gift Shop and/or the creation of street artist Mr. Brainwash featured in it have been rumored to be media pranks, but no one seems to know for sure.  If Bansky and/or Fairy did fake part of the Mr. Brainwash story, it's hilarious and inspirational for creative ingenuity. But if it's real, despite the assertion that Mr. Brainwash's art is bad art that merely exploits the street art aesthetic, I love the idea that a man with true artistic passion can get away with selling art becoming a run away success despite minimal talent. In admit, I actually like Mr. Brainwash's art.  The irony alone was worth the cost of admission. But learning the background of the street artist scene, footage and interviews with Banksy, Shepard Fairy, and footage of Banksy's infamous Disneyland prank makes this film a must see. It's a fun film well worth the watch.
Ai Wei Wei – Never Sorry (2012)
Ai Wei Wei is one of the gutsiest artists alive. Here we get a portrait of a brave man, an acclaimed artist, and a force to be reckoned with, even by an authoritarian regime like the Chinese government.
Wei Wei's indomitable spirit comes across as the authorities do everything they can to put him in line. Wei Wei gets jailed, beat up, and his studio demolished by the Chinese government by doing such subversive acts as posting the pictures of student victims of the May 2008 earthquake in Sichuan. (The Sichuan Earthquake Names Project)
The documentary is a history lesson on a great artist and a repressive regime. It's a call to action and a great film. The film deservedly won special jury prize at the 2012 Sundance Film Festival for the film, which also opened the Hot Docs Canadian International Documentary Festival in Toronto on 26 April 2012.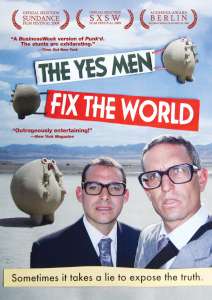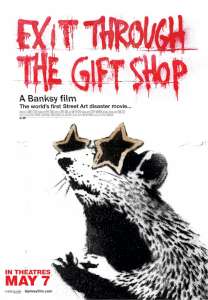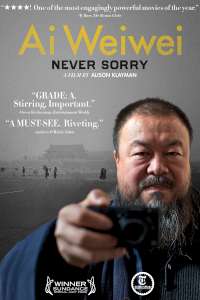 Searching for Sugarman (2012)
A 1970's folk-rock musician that is rumored to be deceased had inspired a generation of South Africans. The filmmakers set out to find the truth of what became of him and discover an old man working in construction.
It's a fascinating story of artistic struggle and how seemingly disconnected people are brought together through the spirit of self expression. The poor filmmakers get their due, Rodriguez' career is revived, and a country gets back an artistic hero. Against all odds, it really happened.
This is a fantastic example of a making of a film having a real impact on people.
Inside Out (2013)
Documents the evolution of what is billed as the largest participatory art movement in the world orchestrated by French artist JR.
The concept is simple. From Tunisia to Haiti, North Dakota to Pakistan, citizens send JR portraits and he prints them to poster sized to be hung up in their respective locales. What follows is a fascinating sociological experiment which each culture having vastly different reactions to seeing themselves.